Top 5 Essential Oils: Learning Aromatherapy for Beginners
This post chronicles my learning project of essential oils that I started back at the beginning of this year.
If you recall, I wanted to follow the advice of super learners like Scott Young, Josh Kaufman, and Tim Ferriss to accelerate my learning.
Well, "rapid" learning didn't happen. But I have been learning.
Today, I have finally narrowed down my Top 5 essential oils for beginners. And I've got a free 1-page printable for your benefit – just sign up for my newsletter and you can access the free library of goodies.
* Disclosure: This post contains affiliate links, meaning that if you purchase after clicking through, SelfEducatingFamily will receive a small commission at no extra cost to you.
Top 5: Essential Oils: Learning Aromatherapy
What made the cut: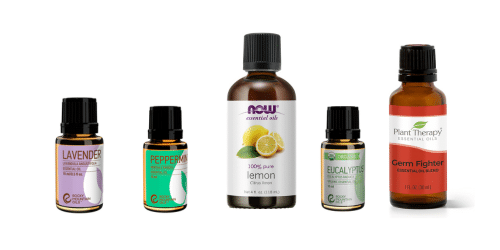 Lavender
Peppermint
Lemon
Eucalyptus
"Thieves" AKA "Immune Support" AKA "Germ Fighter"
Why these top 5?
It took me a long time to narrow down my favorites. This list is what I would start with if I had ZERO essential oils in my medicine cabinet.
I use each of these every week, if not daily.
How do I use these Top 5?
Rocky Mountain Oils (one of my favorite brands) breaks usage into three categories:
Health & Wellness
Cleaning & Home
Holistic Beauty
That's a great place to start learning! Most oils serve multi-duty purposes, but I'll stick with the most common ways I use them.
Additional Disclaimer: All of this is my own personal observations and not meant in any way to constitute health advice. Consult your practitioner for individual advice. Never ingest essential oils unless directed by a licensed professional. Use a carrier base for most oils with topical use. Review contraindications for each oil. Update your accidental dismemberment policy before beginning any chemical experiments. Essential oils have never exploded in my presence.
Botanical names
I will reference the botanical names for each oil. You want to check botanical names on any bottle of essential oil to ensure that you are getting the right stuff. And beware of blends already made for you – there's nothing wrong with that if you are purchasing from a trusted company like Aura Cacia, doTerra, Plant Therapy, Rocky Mountain Oils, Amrita Organics, or YoungLiving. And there are probably lots of other companies too. But some more unscrupulous companies substitute cheaper ingredients to make a buck. Like that olive oil scandal several years back.
I usually hesitate to buy a bottle if it doesn't have the botanical name listed on the label.
More on Blends
Some blends are simply several "100% essential oil" types mixed together.
Or sometimes blends are one oil blended in a carrier oil. For actual use, nearly ALL blends need to be mixed in a carrier base for topical use. So buying a blend is not necessarily terrible. A little goes a long way.
That said, if you do make your own blends, you can control the carrier base that it goes into. That's outside the scope of this post, but know that you can do that. Plus if you make your own blends you can also control the ratio of essential oil to carrier base. If you buy a pre-made blend, you have no idea of the amount of actual essential oil you are getting. Sometimes it's cheaper for a reason – carrier oil costs less than essential oil.
Again, reputable companies, please.
Lavender
Lavandula angustifolia is the botanical name.
Did you know botanical names can change? Lavender used to go by Lavendula officinalis, according to AromaWeb.
I have bottles labeled with both names.
Lavender soothes and relaxes. Known for its calming, mood de-stressing properties, I regularly use Lavender in a relaxing, night-time bath with Epsom salts. I also use it with a reed diffuser that sits on my bed stand. And finally, I use it nightly on 4 pressure points on my head to promote sleep, based on information I learned in my essential oil Brain book.
Occasionally, I will add a few drops to my wool dryer balls when I wash my sheets to aid sleep also.
A warning
Contraindications & Safety Warnings: Avoid during first trimester of pregnancy.
Lavender is among the more safe essential oils. It's among the few that are generally regarded as being able to use "neat" as opposed to in a carrier base.
HOWEVER!! A little goes a long way. I'm going to tell a tale: One of its lesser-known properties is as an insect repellent. The French are noted to put lavender on their windowsills to repel scorpions. Many years ago, a close relative was being plagued by fleas one summer in her household. I suggested lavender until she could rid the house of the insects. The fleas were biting her ankles. So she started slathering lavender on her ankles. And pretty quickly she got what looked like a sunburn on her skin. She was older and had "thin" skin. And the lavender irritated her skin to the point of a burn.
Moral of the story: Use carrier oils. Use small test patches until you know your reaction if you are using it topically. If you have thin skin, be very careful at first. And put the lavender on your clothes and shoes instead of skin if you were in the same situation.
Peppermint
Mentha piperita. Common peppermint that you can grow or drink as tea.
I use peppermint in my DIY cleaning products, which are mostly all vinegar & alcohol-based sprays. It smells wonderful when I am cleaning. I think it was one of the things that got me to clean better. I put it in my general-purpose disinfectant, and it is simply lovely.
I will also blend this into a gargle for winter sore throat season with clove and eucalyptus.
And finally, I use it regularly in my DIY clay toothpaste. I never seem to have spearmint on hand, which would be better for toothpaste, but I always have peppermint.
Contraindications & Safety Warnings: avoid during pregnancy or a history of high blood pressure. Dilute well if used on the skin.
Lemon
Citrus Limonum. Lemon is the BEST for all cleaning products. It has antiseptic properties so I know I can disinfect with it.
I'll use it in my DIY cleaning products, especially wood polish spray. And I use it in the laundry often. With wool dryer balls, just a few drops make a laundry load smell fresh and clean. And it helps keep the dryer itself fresh-smelling.
I have many oils from the citrus family of aromas. Lemon, orange, tangerine, bergamot, grapefruit, and lime can usually be found in my medicine cabinet. I almost always use one member of the citrus family in my blends. All of the citrus oils are from the Top Note so they give that first aroma you smell from a blend.
Lemon is in the blend that I use in my DIY hair conditioner (which is simply Apple Cider Vinegar, water, and essential oils).
Here's the warning, though. You know how if you put lemon juice on your hair and then go out in the sun to lighten your hair color? That's because lemon is phototoxic!
Contraindications & Safety Warnings: Phototoxic – do not use before going out in the sun, may irritate sensitive skin. This applies to all of the citrus family.
I'm getting all of my safety warnings directly from Gregory White's online book at DoctorLib.info .
Eucalyptus
Eucalyptus Globulus. Yes, this is the famous ingredient in cough drops. So you can guess how I use it.
Throat gargles and steam inhalation if someone is sick.
For a quick steam inhalation, I boil water, pour it into a bowl, put a few drops in, and inhale slowly and deeply. It really opens up the sinuses and lungs!
Alternatively, I will drop a few drops at the side of a hot shower for a sort of steam bath approach.
Note, that this can go wrong in many ways. Boiling water and a sick child?
And eucalyptus is very strong. I've put one drop in a warm water gargle and accidentally inhaled too deeply and ended up spitting out the whole mouthful because of the shock of how strong the smell was!
A side note, never drop one of those glass bottles on the bathroom floor. You would NOT believe how long the eucalyptus smell will linger in that quantity!
Here's the real warnings:
Contraindications & Safety Warnings: Avoid if using homeopathic remedies or if there is a history of epilepsy.
I would think that the homeopathic quality of any remedy would be knocked out by most essential oils because they are in general very strong smells. Homeopathy gets knocked out by strong smells. And Eucalyptus definitely has a strong smell!
Germ Fighter or Thieves or Immune Support
Okay, I KNOW this is not really an essential oil, but instead contains several essential oils.
But I just love it! I love the scent and I use it regularly as a preventative.
First: The Legend
Legend has it that 4 brothers turned thieves during the Black Death Bubonic Plague era when their family fell on hard times. Their dad was an herbalist. The 4 thieves took to robbing the dead and they survived because of either an oil blend or a vinegar blend or herbs they always carried with them. The herbs warded off the plague.
Most companies carry this blend but have a different proprietary name for it. Or a unique addition. Almost all of them include:
Rosemary
Clove
Cinnamon
Lemon
Eucalyptus
Other oils might include orange, nutmeg, ginger, oregano & thyme, which have similar properties to the essential essential oils.
Isn't listing a blend a cheat as a top 5?
Yes. Too bad! It couldn't be omitted.
How do I use it?
I use my germ fighter daily. My brain book recommends rubbing it on your feet before bed, so I have a dilution on my bed stand. The smell is warming and yummy! It's also a great scent for winter and fall to make the house smell inviting.
Here's your bonus freebie reference
I've put my Top 5 Favorite Essential Oils in a cheat sheet of sorts as part of my learning project. I've made little cheat cards into bookmarks because I need a few more bookmarks.
If you sign up for my newsletter, you get the access code to our Free Library, which is packed with goodies. If you are already on my mailing list and you've forgotten the code, drop me a note and I will resend it.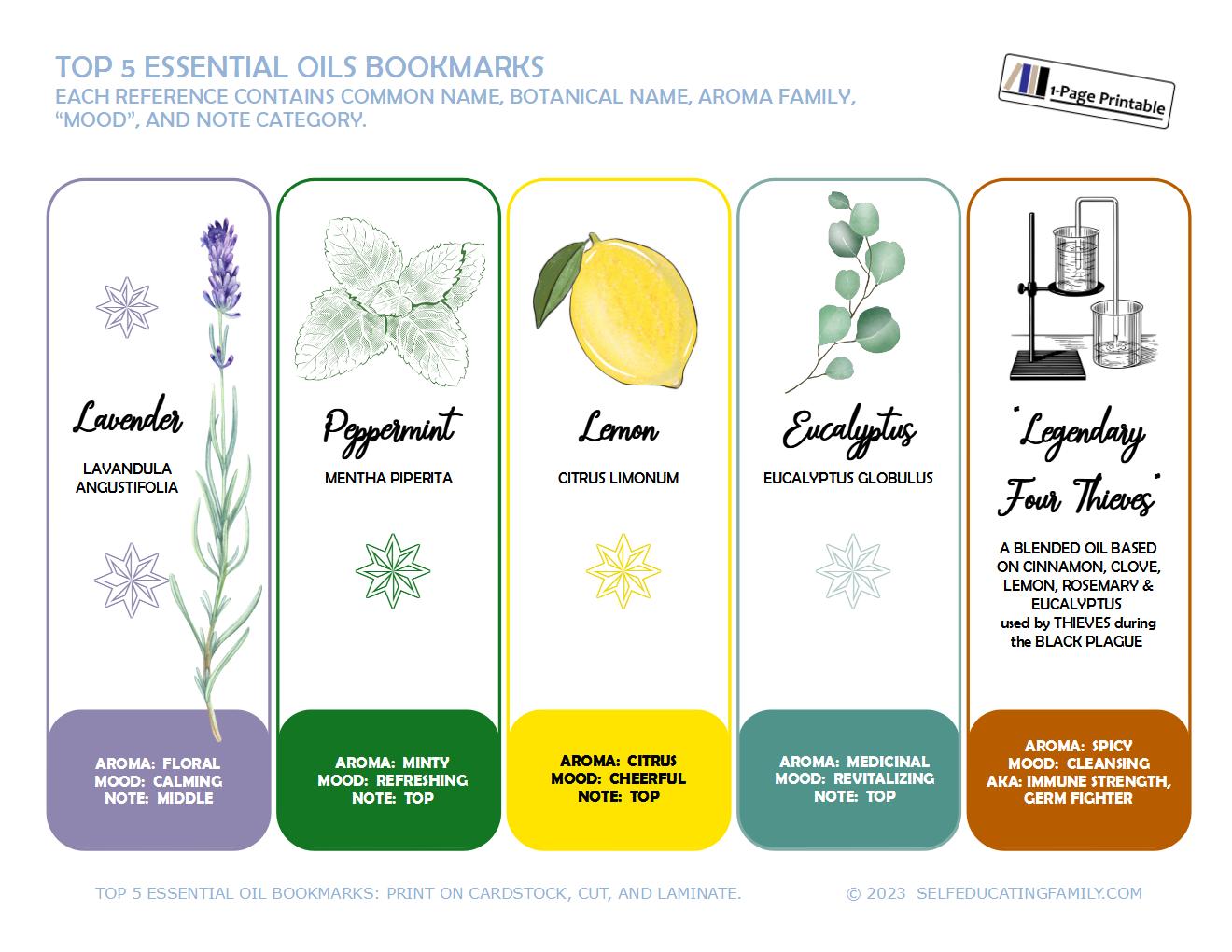 Where can you find these oils and brands?
A small kit is a great way to start. Here are some from my trusted brands.
FAQ
How do I learn to use essential oils?
Start learning to use essential oils by selecting a few scents to learn. Learn one at a time. See what your favorites are. The easiest way to test a scent is to uncap the bottle and inhale. Then recap the bottle.

You can use our free printable bookmarks download to get started selecting your first oil.
What are the best essential oils for beginners?
Begin learning essential oils with the most common scents. These include Lavender, Peppermint, Lemon, Eucalyptus, Frankincense, Orange, Ylang-Ylang, and Chamomile. These common oils are all well-tested and you can find a lot of information about any one of these.
What are 5 must-have essential oils?
My Top 5 Favorite essential oils that are "must-have"s are Lavender, Peppermint, Lemon, Eucalyptus, and "Thieves" blend. Download our free 1-page printable bookmarks with these detailed.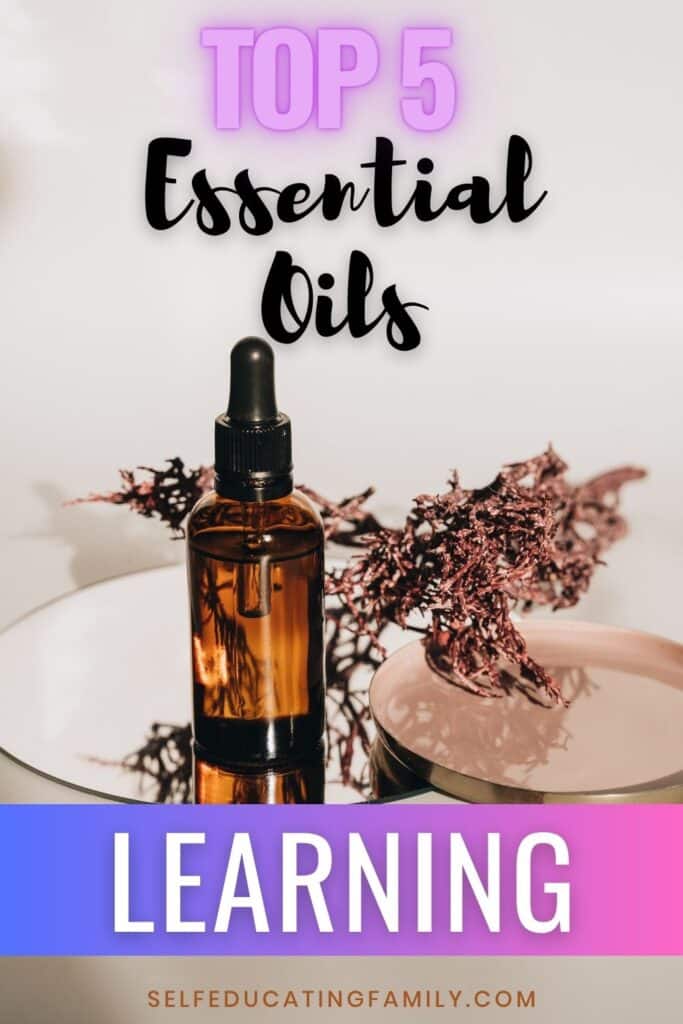 Related articles
For More Study