Essential Oil Crafts: Making a lip balm
Have you ever tried any essential oil crafts? I'm making a lip balm for the first time ever.
I have never tried to craft a lip balm with or without essential oils. This article will show you what I did. It's part of my "lovable learning project" on essential oils.
A Note on Handicraft
With handicraft, there are so many opportunities to learn new things. By making a practice of learning a new type of handicraft each semester, your kids can increase their basic skill levels in those areas and at the same time, they increase their ability to learn new things with confidence. Children need to understand that they can and should find satisfaction in making things with their hands. I believe this is one reason Charlotte Mason's methods include the practice of handicraft at every level.
Who can do this craft?
As the parent, you know your kids. Skills required in this craft are:
Measuring
Working at the stove
Using a double boiler
Pouring hot liquids
So it's pretty basic. The tricky part is knowing when your kids can independently work at the stove. Supervision is always recommended and you can also divide up tasks if you have a range of ages, or assist with the hot liquids as needed. And keep an aloe plant on hand for burns!
I also recommend trying a craft on your own once before you teach it to your kids, though this craft is a lot like cooking, so use your discretion. And it is very much like melting wax to make candles, so if you've done that, you are ready for this.
* Disclosure: This post contains affiliate links, meaning that if you make a purchase after clicking through, SelfEducatingFamily will receive a small commission at no extra cost to you.
Source
When I started my project to increase my ability to use essential oils, I went on a library binge and picked up more than a dozen books on the topic. Several of them had good lip balm recipes and instructions, but I selected a recipe from Ashley English's book Home Apothecary. The recipe was called "Pucker Pacifier Lip Balm".
Materials
The recipe called for beeswax, coconut oil, essential oils, honey and a container.
Process
Basically:
Melt the beeswax and coconut oil together
Mix in the essential oils
Put it in a container.
Sounds easy, right?
Here's what it looked like
Overall, it's a very simple craft. It turned out beautifully and I would do it again – once I use up my 2 ounces of lip balm. Good thing it's winter. It would make a great gift craft.
First, I gathered my ingredients and equipment.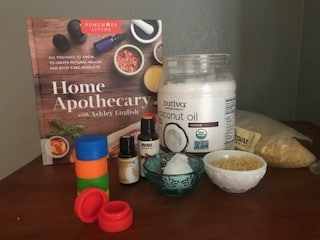 Step 1
After measuring, I melted the beeswax and the coconut oil in a makeshift double boiler. I wanted to use a pyrex glass container to do the main mixing because I thought it would be easy to clean. I used a riser (like a cooling rack) on the bottom of the pan of boiling water.
Remember: When using a double boiler, make sure your melting container touches water, and does not have direct contact with the bottom of your pan. It gets too unevenly hot if the water isn't there to buffer the heat from the stove.
Step 2
After it melted, I removed it from the heat and mixed in the honey and essential oils. I used clove and tangerine, because it was close to one of the recommended blends in Ashley's book. I substituted tangerine because I was out of orange.
My honey was solid when I mixed it in – I should have melted it or warmed it to liquid. The solid didn't seem to mix in that well. I'll probably have a blob of honey somewhere in my finished container.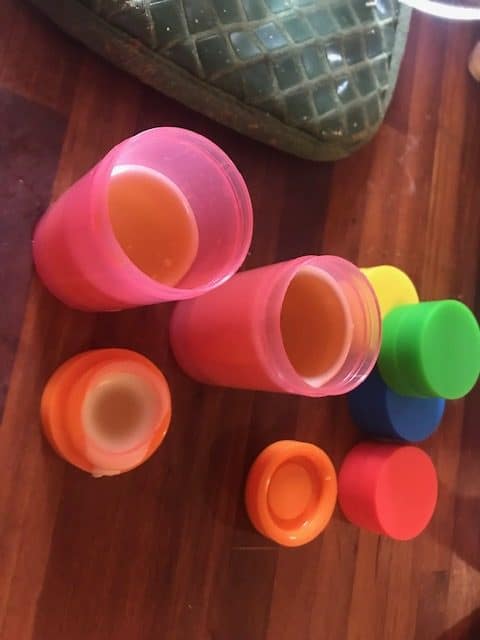 Step 3
Then, I just poured it into my containers. I had gotten these cute silicon containers, but they only hold about 6 ml, so they are perfect for putting in your pocket, but I didn't have enough of them for my recipe. So I used a container I had lying around. I think I will just refill my cute little container as I go along.
Finally, cleanup was a breeze. I think the coconut oil must make the beeswax easier to get off my pyrex and mixing spoon. If I were to do this regularly, I'll probably dedicate a melting container, as I have for making candles.
All in all, I really enjoyed this craft. I had no idea it would be so simple. Now I can control the ingredients to get a beautiful, all-natural healthy, lovely-smelling result.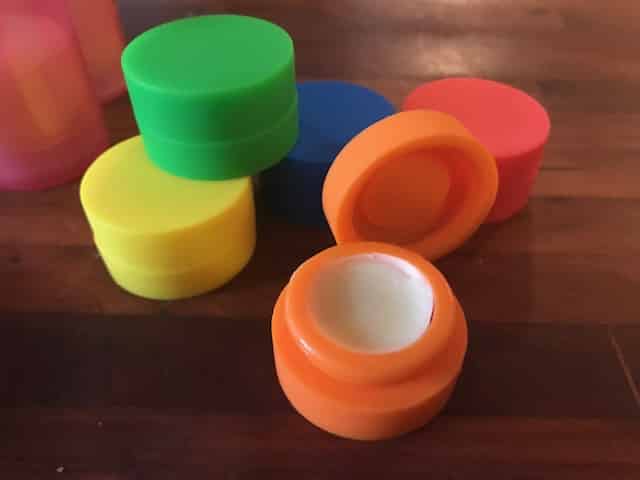 I still would like to make a chocolate lip balm though. Maybe…
What other crafts use EO can I DIY?
There really are a lot more things to try. Here's a summary of what I found:
Beauty

Face products like masks, cleansers, toners, scrubs, makeup, lip balms & glosses
Hair products like conditioners, dry shampoos, deep oil conditioners, gels
Body products like scrubs, balms, sprays, creams, and massage oils
Bath crafts like bath bombs & salts, soaking oils

Cleaning

All of your cleaning products have DIY replacements out there. My favorite recipes come from Becky at Cleanmama.com

Health

Again, there are so many options out there. Things like salves & creams for itches or scratches. See below for ideas.

Decor and more

Like scented pine cones or drawer sachets.
DIY playdough
FAQ
What can I make with my essential oils?
Essential oils can be used to add fragrance and desirable qualities to beauty products, like lip balm, hand salve, DIY perfumes, hair volume-izing rinses, body scrubs, and more.
They can also be great for DIY cleaning supplies. A number of oils have disinfecting properties like lemon or tea tree. Cleaning sprays, toilet bowl freshener, dryer scents, general disinfecting cleaners and other applications work well.
Health related remedies often use essential oils in salves, sprays, and creams.
One fun site even makes calming scented playdough that releases scent as you use it.
What should not be mixed with essential oils?
Sometimes, when you use essential oils, you need to dilute the oil. For instance, if you are making a massage oil—many essential oils are too strong for contact on the skin. They can actually burn, cause rashes, or damage the skin. So you need to dilute them in these cases. Remember, essential oils are extremely concentrated.

Never dilute with water. Think back on your high school chemistry—Water and oils don't mix. So mixing essential oils with water is a no-no.
Exceptions to using water: Some DIY crafts with essential oils (like sprays—think air freshener or pillow freshener) use water as a base, but there is usually alcohol or some other ingredient also present.
Another water exception is adding diluted oils (in carrier oil) to a bath.
How do you use essential oils in DIY?
Essential oils are very powerful. They work well in many DIY recipes like the lip balm in this post.
What 3 essential oils go well together?
I'm working on finding my favorite trios. The best trios combine one from each of the "note" categories Top, Mid and Base. See the reference section below for what those are. One of my favorite combinations for cleaning is lemon, rosemary and cedarwood.
Keep Learning:
Books from my library binge:
Related articles
Other DIY Projects with Essential Oils
How to Blend Oils: More on Notes