Free Parenting Summit
My friends over at Homeschool Summits are doing it again — this time hosting the Parenting Summit 2.0!
Here's the scoop direct from them…
Disclosure: This is an affiliate-sponsored post.
Homeschool Parenting Summit 2.0
by Homeschool parents Brandee and Daniel & Megan
Have you ever seen a picture of a candle burning at both ends … and laughed, because you know how it feels? (And if there were more than two ends on a candle, they'd probably be burning too!)
Raising tiny people.

… who grow into larger people with opinions!

Wrangling with bedtimes and morning routines.
Buying groceries.
Fixing meals.
Navigating neighbors and friends and family relationships.
Cleaning house. (hahaha. ahem.)
… oh, and add in homeschooling on top of all that! Just parenting kids in 2023 is challenging, and the adventure of homeschooling adds a whole new level of crazy to our days.
To be clear: We wouldn't trade it. Raising our kids through intentional home discipleship is a gift from God we don't take for granted.
But … is there any freedom from the overwhelm and discouragement that piles up sometimes?
The answer
The answer is ABSOLUTELY, yes!! God gives us a clear path to trade our parenting discouragement for courage, founded on biblical truth.
That's what the Homeschool Parenting Summit 2.0 is all about. It's a free week-long event coming October 16–21, 2023 to help all of us focus on God's simple plan for family discipleship, recharge our motivation, and faithfully take action to raise children who love God and others.
We'll join hosts, homeschool parents Brandee and Daniel & Megan, as they personally interview a world-class lineup of parents, authors, and speakers … featuring a variety of perspectives, unique stories, and creative approaches to applying biblical truths in your family.
Together, we'll be equipped to parent successfully — God's way — through a focus on five specific areas:
Day 1, Foundations: Start things off right, from our own self-discipline to unity with our spouse on our family's mission.
Day 2, Child Training: Reach the heart of our children with Gospel-motivated love, truth, and consistency.
Day 3, Relationships: Pursue healthy conflict resolution and friendships between parents and siblings.
Day 4, Challenges: Navigate overwhelm, rebellion, media, and technology with a biblical perspective.
Day 5, Launch: Leverage the power of discipleship to propel young adults for marriage, work, and a life of service to Christ
Signup for the free Parenting Summit
The entire event is FREE if you sign up by October 16th, and on top of the video sessions, you'll get access to an online exhibit hall (shop some great discounts!) and the opportunity to connect with other attendees around the world — and perhaps right in your hometown — through our private, 20,000+ member Homeschool Summits Facebook group.
We'll walk away from the Homeschool Parenting Summit 2.0 with renewed hope and faith-filled action strategies for a joyful family that loves God wholeheartedly.
What are you waiting for? Learn more and register for free here.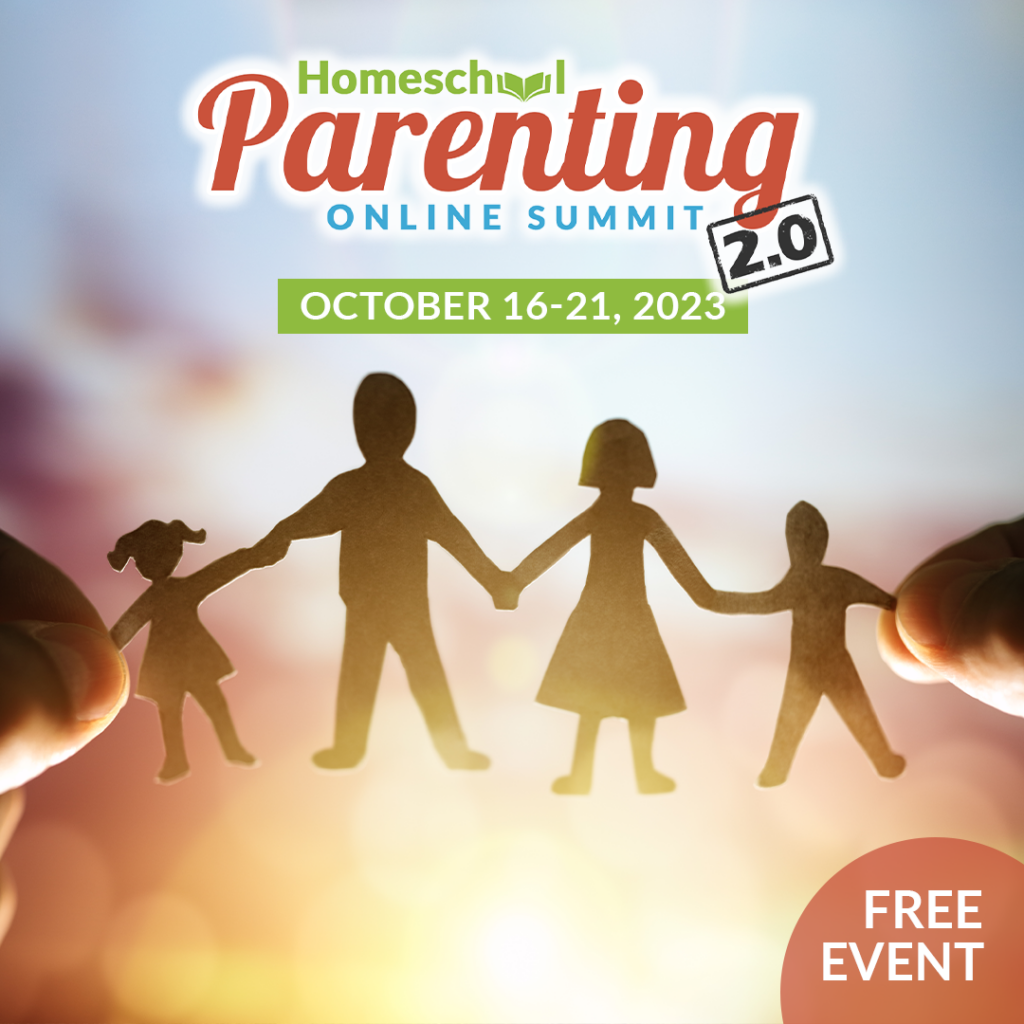 Past Free Summits