Thanksgiving gratitude activities
Looking for some gratitude activities for Thanksgiving? Look no further!
Top 3 crafty gratitude activities for Thanksgiving
Gratitude Leaves
The Gratitude Jar
Turkey Table Decorations
Our Top 3 game ideas
Old-fashioned gratitude scavenger hunt
Photo gratitude scavenger hunt
Table topics gratitude questions/ toasting
The Nitty Gritty of Gratitude
Here are the details of all of our favorites.
Gratitude Leaves
You've all seen the gratitude tree (see references below if you haven't.) I loved the idea of putting gratitude items on leaves, but never liked the tree itself. The sticks were too big or too messy and the hanging didn't work right – but, hey, if it works for you – go for it.
We simply take the pretty filled-in leaves and stick them on the wall around the archway in the dining room. It looks great – makes the room very festive.
After the festivities, I take our leaves off the walls and add them to our annual Thanksgiving journal.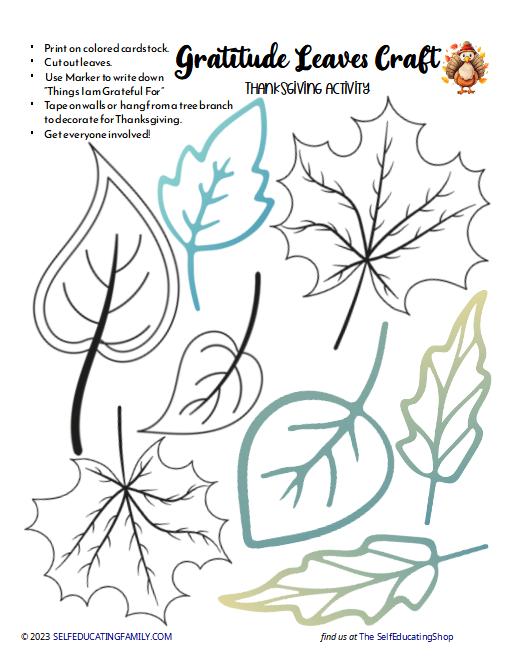 Here's a page of leaf outlines to print on colored cardstock
– Click the leaves to download or
Sign up for our newsletter for access to more great freebies
The Gratitude Jar
I adored this idea since my guys were little. Different versions of this seem to fall into two categories. Either:
Add one piece of paper to the jar with something you are grateful for each day. Then read the jar at your Thanksgiving dinner – or –
Fill the jar at the beginning of the month filled with slips of paper listing ways to be grateful as a family. Pull 1 item per day from the jar as a month-long gratitude activity. Items could be fun things like "Thank Dad for something he has done for you by making him a special dessert he enjoys" or "Show your brother you appreciate him by doing his chores for a day" or "Take the dog for a walk as a family because you love having a dog" or "Thanks for technology! Watch a movie together to enjoy!"
How did it work?
Both jars sound lovely, right?
The first jar idea probably worked fine, but we never seemed to be deliberate enough about filling the jar. I like the idea of taking the jar items out and filling up the outside of a pumpkin (google "gratitude pumpkin"). That way everyone participates and you end up with a conversation starter sitting right on your dinner table. Win-win.
However, when we tried the second jar method, we ended up with a complete disaster! EVERY TIME!
Somehow, and I think it was my budding little lawyer who could always find the loophole in the rules, my boys would instantly find the best slips of paper and we'd be eating brownies every day for a month! We never "washed the car because we were thankful for it". And yet, I kept trying to make it work for many years.
I'm pretty sure that it did not produce gratitude in any form.
I think I'm going to stick to the gratitude leaves this year. Although, I think I may give the Gratitude Jar one more chance…
Turkey Table Decorations
Turkey decorations on the dinner table are always a favorite of mine. Turkeys are easy to make. Construction paper, googly eyes, a pair of scissors… have some fun with it, and don't overthink it.
To make a gratitude turkey, simply write everyone's "I'm thankful for" list on the turkey feathers. Then stand up the turkeys on the table. Here are a few ways to make this craft:
Gratitude games for Thanksgiving
Old-fashioned gratitude scavenger hunt
Make teams and send everyone searching for your list of items to be grateful for. Can be played inside or outside.
30 minutes is a good amount of time to aim for. If it's all younger kids, then top it at 20 minutes. Adults can sometimes go longer. Mixing up ages on the teams is a good idea.
Try to have 10 items max on your list if the hunt is for little kids. A longer game for mixed teams or adults can go 20-50 items. Because it's Thanksgiving, I wouldn't go more than 25 items – people like to laze around a bit on Thanksgiving from what I've seen.
I'm going to try a VERY short 7-item photo hunt.
Here's the list I'm going with: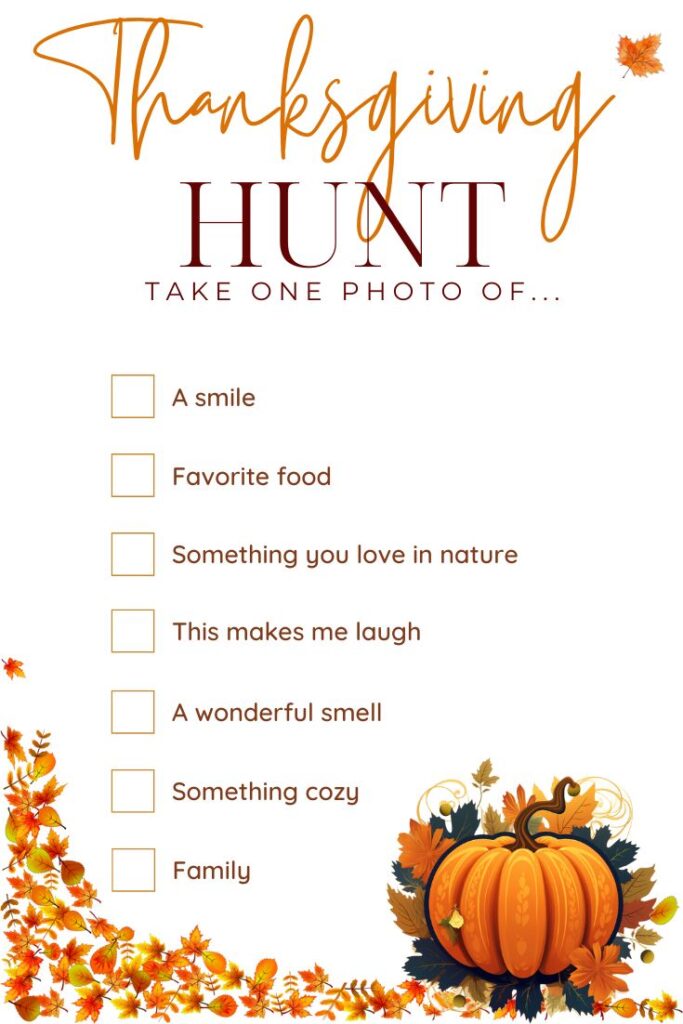 Photo gratitude scavenger hunt
So the photo hunt is the same idea as the old-fashioned hunt but it gets the technologically-addicted involved. Anything with a phone is appealing to a certain age group. And that includes adults – it may even include yourself!
If you've banned phones for the day, then do it the old-fashioned way!
If you do use the phone option, try to have a way to display all of the images on a big screen.
Sample lists
Here are some fun lists that I found if you need inspiration:
Table topics gratitude questions
Go around the table and ask folks to contribute to the conversation. Ask questions like:
What are you thankful for this year?
What is something you sometimes take for granted but you are very thankful for?
Name someone you are grateful for and why.
What food are you the most appreciative of?
Share a heartfelt toast with all at the table.
What is one silly little thing you are grateful for?
These are all part of a printable "fortune teller" origami-fold game that is available at The SelfEducating Etsy Shop.
Gratitude Reminder
However you do it, have fun, and think grateful thoughts.
Related Articles
Free Library content: Free Gratitude Journal (sign up for our email to get access)
For more resources