Thanksgiving Checklist + Printable Gratitude Journal
A fun look at my thanksgiving checklist with a free printable gratitude journal.
As you may know, I love checklists – so here are my Thanksgiving lists. I've also included a free printable gratitude journal with inspirational quotes at the end. You can use these for just thinking great thoughts or you can use them for copywork.
Funny thing about checklists for holidays
I make great checklists because of my deep love of checking the little box. But holidays are relentlessly punctual. And my gorgeous, well-planned checklists are often, ultimately scratched out as I abandon the dream and hurriedly scramble to just get the toilets cleaned in time for guests.
Nevertheless, as a complete optimist, I will make a new list every time. Hope runs amuck again!
Notice
Did you notice that I'm making my "November" checklist two weeks into the month? Yes, that's right – I'm gleefully starting two weeks late on my Thanksgiving prep.
Remember, as long as you start right now—that's better than not starting!
Tips
Categorize what you want to do.
Get your family to help.
If you homeschool, use handicraft time to do a lot of prep work. Think kitchen "make-aheads" and decoration/household seasonal crafting.
Abandon perfectionism at the last minute so you can clean the toilets.
Here's my ambitious list for Thanksgiving
Food Handicraft make-aheads
Cranberry Habanero Pepper Jelly--update! Done! This is SO yummy!
Mince Pie Filling – needs 2 weeks to mix the flavors — canceled. Apparently, no one likes my mock-mince pie. The things you find out at Thanksgiving.
Pie Crusts (freeze)--update! Done!
Soaking & drying nuts--update! Started!
Pies to freeze? —Didn't make anything early enough to freeze
Cookie dough to freeze?–Ditto
Biscuits to freeze?—Ditto
Muffins to freeze?-–I actually did make muffins ahead of time and we ate them all.
Ferments – cranberry sauce —did it, but it won't be ready until the weekend
Ferments – 2nd fermentation cranberry flavored water kefir or kombucha–What was I thinking?
Keep up the sourdough —Who am I kidding? I killed the sourdough by neglect. Alas poor Urick.
Make Mom's Famous Cheese Stuffing —note: this does not go in the bird — it goes in celery.
Calculating How Many Pie Crusts You Need
How many people are you expecting? That tells you how many pies you will need.
I have a simple formula for how many pies:
There is a caveat: If you have less than 3 people, you need 3 pies: Pumpkin, Apple and Mince.
Math
Now, get the kiddos out for a math lesson: How many pie crusts do you need to make ahead and freeze?
Sort your desired pies list into: crustless (like cobblers or flans), single crusts (like pumpkin or pecan), and double crusts (like apple and mince – include the lattice-crusted tops as a double crust).
Now, in your head:
There you have my secret calculations for the number of pie crusts needed. Use a butter crust. It's better. Also, freeze in wax paper or saran wrap as DISC shapes, not balls. It's easier to roll out when they thaw.
Home & Hearth Crafting
Scented Pine Cones for the centerpiece
Basket of Nuts
Gourds
Place names for table
Thanksgiving Gratitude Jar
Fill up the Morning Basket of Books (see below)
The Gratitude wall
Keep up the normal cleaning schedule
Papercraft thanksgiving cards
Send out thanksgiving cards
Library tasks
Reserve all books/DVDs that we don't have and fill up the Morning Basket:
A Charlie Brown Thanksgiving DVD
Squanto's Journey*
Cranberry Thanksgiving
Huggly's Thanksgiving Parade*
Pilgrims of Plymouth*
Turkey Riddles*
The First Thanksgiving*
America's Parade*
Why Thanksgiving
* We own these. A note on the Turkey Riddles. Incredibly punny – I pull it out every year and ask everyone the riddles. Lots of groans. I wouldn't call it twaddle, but it's not exactly literature! Some of our family books fall into this category – like the Huggly title. The book becomes living to us because of circumstances. America's Parade is in our Family Library because I grew up with the Parade and it has become a family tradition.
* Disclosure: This post contains affiliate links, meaning that if you make a purchase after clicking through, SelfEducatingFamily will receive a small commission at no extra cost to you.
Gratitude
Every year, I pull out our Thanksgiving Jar which is a gratitude countdown to Thanksgiving.
Only, we had a problem with our jar when I made it back the boys were little. It had printables which I laminated and put in the jar to pull out one per day. They were adorable and said things like, "I am thankful for the Seasons! Go on a nature walk today." Sometimes they had fun things to do, and other times they were extra things to do for other people.
Needless to say, my boys instantly took them all out, and read them to find the "good" ones – the ones that said things like "I am thankful for our kitchen! Bake something fun together in the kitchen!" or "I am thankful for my Eyes! Watch a special movie with your family." And they avoided anything that said things like "Give some of your toys away."
Aren't children wonderful?
So I kept that jar. And I bring it out every year. It's kind of a family tradition in a strange way. It makes us laugh now.
Thankful Jar
Here are other resources for how to make your own thankfulness or gratitude jar. These are more along the lines of having the kiddos write down their gratitude and stick it in the jar. Then you take them all out on Thanksgiving and read them together.
Gratitude Journal
Here's a free printable gratitude journal for you. I added some quotes on the last page to inspire you. You can also use them for copywork.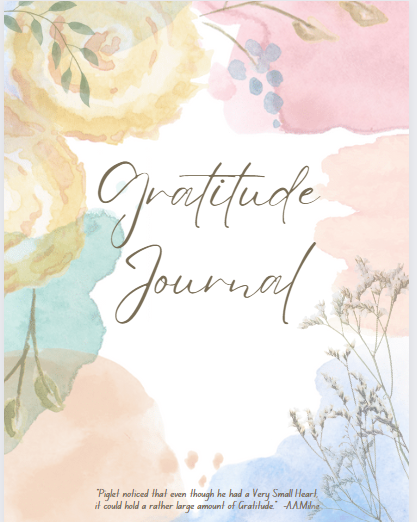 Here's a quote from the last page that you can pin!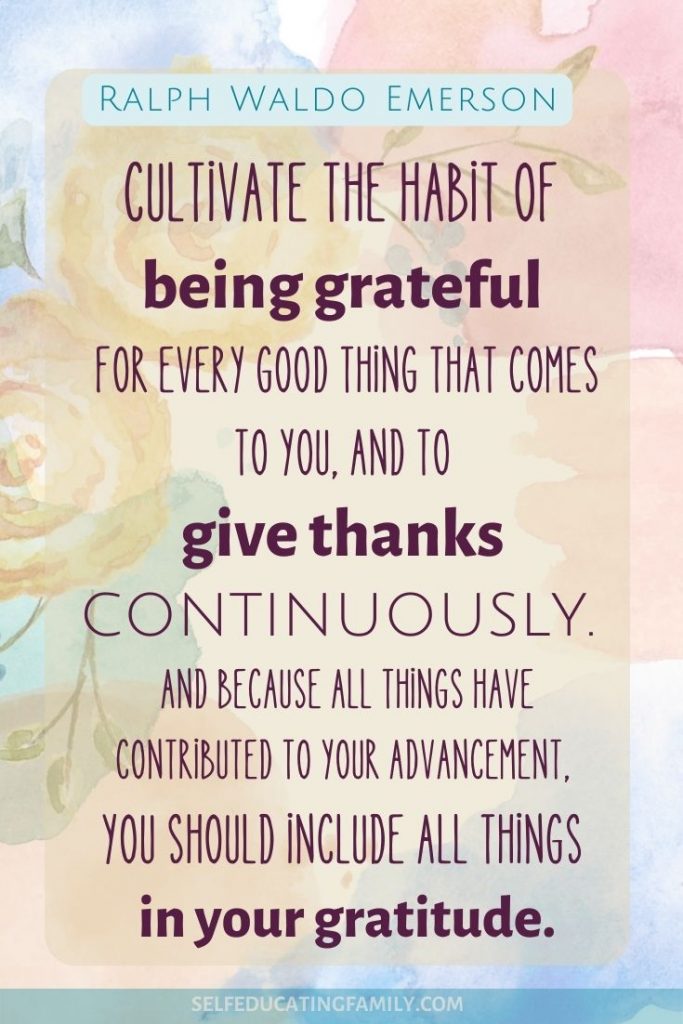 Related articles