Planning Shakespeare for Your Homeschool Year
Are you looking to make sure you plan to include Shakespeare in your homeschool year? This article can help!
If you don't know if you want to include Shakespeare, check out these articles.
Disclosure: This post contains affiliate links, meaning that if you make a purchase after clicking through, SelfEducatingFamily will receive a small commission at no extra cost to you.
Step 1: Select your play(s)
How many plays should we study?
Looking for definitive answers? Here it is… It depends!
If you are new to Shakespeare, start with one play and see how it goes.
If your oldest students are just starting Year 4 (about age 10), then again, start with one in the first semester and see how it goes. Start with the "easier" plays.
3 of Shakespeare's "easiest" plays
A Midsummer Night's Dream
Much Ado About Nothing
Macbeth
If you have students younger than Year 4, you may want to start by reading a synopsis of your play. Lamb's Tales of Shakespeare is excellent, as is Edith Nesbit's Beautiful Stories from Shakespeare. And of course, who can forget LEGO's Brick Shakespeare: Four Tragedies & Four Comedies?
If you have students who are familiar with Shakespeare, you can safely schedule one play per semester.
We usually worked off of trimesters – Fall, Winter & Spring – even when some of our curriculum (like math) worked off of a two-semester schedule. We would schedule 3 plays some years, and 2 other years by skipping the winter semester play.
Which plays should we study?
As I mentioned earlier, if you are new to Shakespeare or have younger aged kids, start with the easier plays.
If you use Ambleside Online free curriculum, they have the semester choices laid out for you. Years in advance, actually. So it's a matter of checking what is scheduled and if you've done any particular play already or if you need to substitute a play for other reasons.
For instance, my co-op decided to accommodate our family in my twins' senior year because they had never read Macbeth and we all felt it should not be missed. So we included Macbeth and eliminated a different play that was scheduled that Fall. Then the next year, the same thing was the case for another senior. She had never read Twelfth Night, but we had read one of the other plays that was scheduled, so we changed the spring pick.
What I am saying is that you need to make the plays work for your family. Some families like to start with the comedies. Our group co-op liked to cover one comedy, one history, and one tragedy each year.
Interestingly, when my kids were older, we loved the Henriad/Tetrology and choose to add in some extra history plays over the summer on a lighter schedule where we simply watched the ones we didn't read that year. We watched the TV-Miniseries from the BBC called The Hollow Crown. It covered all 7 of the Henry/Richard plays with incredible performances by some of the best British actors at the time (2012-16). These are not for the faint of heart – the violence depicted can be graphic (they are history plays depicting wars), so be sure to pre-screen for your family.
Step 2: Plan the semester/trimester
Now that you've selected your play, you will divide it up over the course of the semester.
We used trimesters, so I will show you what that looks like.
A trimester has 12 weeks (3 trimesters make a 36-week school year, which is 180 days – the typical length required for a school year. Most curricula use 180 days.) This contrasts with the 2-semester year of 18 weeks per semester. You're not doing anything more or less – you are just arranging your breaks differently.
Now, keep in mind that a Shakespeare play has 5 acts. For a trimester, you add an "Introduction to the Play" giving you 6 things to focus on. The Intro or Act then gets 2 weeks devoted to it. Alternatively, you can devote 1 week to the Intro, 2 weeks for each Act, and then 1 week as a final wrap-up.
The 12-week schedule fits a Shakespeare play beautifully.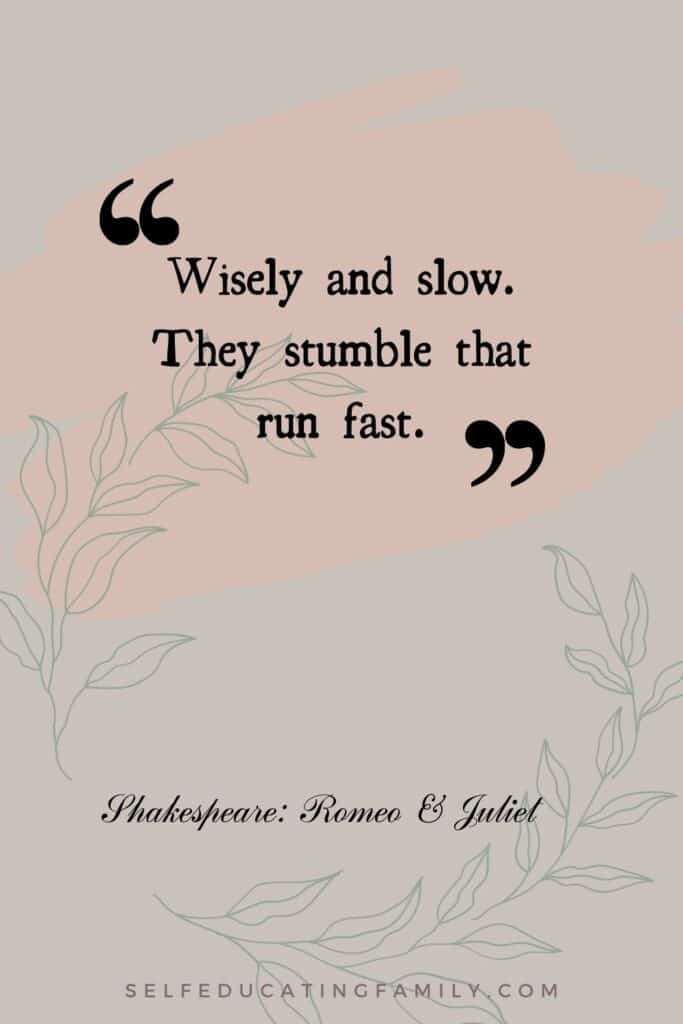 What exactly do you do for 2 whole weeks with a single act?
We typically would "schedule" Shakespeare for 1 day each week (remember—we were usually doing a co-op that met every OTHER week). On the weeks we were not in co-op, we would do "homework" which meant that we had to read the next act coming up.
We opened our No Fear texts AND the No Fear online text, then opened up Librivox and listened to the Act while reading along with it. Sometimes, we had the ArcAngel Audiobook production out from the library, which generally has better sound recordings than Librivox, and so we would listen to that instead.
We would pause after each scene within the Act, and narrate the action, or review what we missed or didn't understand.
Then, on the alternate weeks, we would come back to the Act we read the week before and rework the narrations. We would discuss themes, things that stood out to the kids, favorite parts, and character development. We would also work on our "term" narrations. While we usually did this in a group co-op, it does work with just your family also. It's a bit harder if you are only homeschooling one child, but it's workable since you can focus on just that child. Be sure you are having fun with it, though, and try to let your child do much of the talking.
The final term narrations
Over the course of the trimester, we worked on what we called the "giant" narration. At the beginning of the term, we'd talk about how we wanted to present a final narration – which we would usually present to our whole families in our co-op, including Dads and littles.
We have tried various "giant narrations", including acting a mini-version of the play where we would rewrite our own scripts, puppet shows, lego dioramas, comic books, and a number of other various forms. Each week on the week we weren't reading or listening to the play, we would work on a small piece of the giant narration. We would also read aloud together various sections of the plays to practice with the language.
Why didn't we read the whole thing together?
Because most people are unfamiliar with Shakespearean language, they don't read it well.
No offense.
And if most people can't read Shakespeare well aloud, then the younger you are, the more challenging it can be. And that makes it even more challenging to LISTEN to it and get the gist of what is being said.
So, listening to a more practiced reader while reading along seemed to work well for us. Remember, my family always liked to watch a film or theatre version first, then read it. Others in our group preferred reading first, then watching.
Either way, it's still important to get everyone reading the language aloud. Take your time and practice it. It's a bit like reading poetry aloud (since much of Shakespeare is written in verse!) Use recitation for practice as well as reading aloud. And you can also memorize larger sections, like soliloquies if your student is older.
What if you use 2 semesters?
If you are using two 18-week semesters in your homeschool, might I suggest doing at most 2 plays (one per semester) and simply scheduling 12 weeks of Shakespeare and then enjoying 6 free weeks? You can include a week where you watch the play, too.
You can delay the start for a week or two and just run 12 weeks straight and then have a few weeks off at the end. It's always nice to schedule a lighter end-of-semester if that is possible since the end of a semester often has lots of extra things that need to happen.
Final Ideas to add to your schedule
Shakespeare does need a bit of introduction, usually.
While there's no need to introduce the stories in Lamb's Shakespeare, when introducing the whole play, you may need to work through the language a bit. Once the students are familiar with the story of the play, then you can start.
It doesn't have to be elaborate: For instance, when introducing Midsummer Night's Dream, you can:
categorize it (it's a comedy – so everyone gets married in the end and no one dies)
introduce the basic setup (some fairies play tricks on two sets of couples in the woods)
introduce some of the main characters (Puck is the fairy behind all the mix-ups. He's known as the "Trickster")

The royal characters
The "low-brow" characters
The fairy world

Set up some of the themes you want to discuss along the way, like Illusion vs Reality.
Where to find Introduction sources
A good place to look for ideas is in the front of your book. Don't make the kids read this part unless they are really interested, but you can glean some good background in case questions arise. The Folgers editions are very good for this as well as for an explanation of idioms. And a final place to look is the No Fear Sparknotes Shakespeare online. Just remember to keep your lectures small.
Another option for the introduction is to read the character list aloud together. It gives a nice overview of who's who. For one play, we used a big sheet of paper to keep notes about the characters as we went along, and we added to it as we read the play, but we set it up during the intro week.
Finally, select a few quotes from the play that you want your kiddos to use for recitation, copywork, or memorization. Sometimes, a simple quote can be a reminder of the whole play. Think of "Friends, Romans, Countrymen: Lend me your ears" and you are immediately transported to Marc Antony's brilliant speech in Julius Ceasar (if you are familiar with the play, that is!)
Step 3: Go!
The final step is to dive in and go. Remember to have fun and enjoy the play.
Summary
I've compiled a free download for you that has a sample 12-week schedule cheat sheet to refer to. It should work with any Shakespeare play. I've also included a bookmark for A Midsummer Night's Dream. I liked to make bookmarks for the kiddos as a way to hold onto some of the important quotes from each play.
Related articles
Bookmarks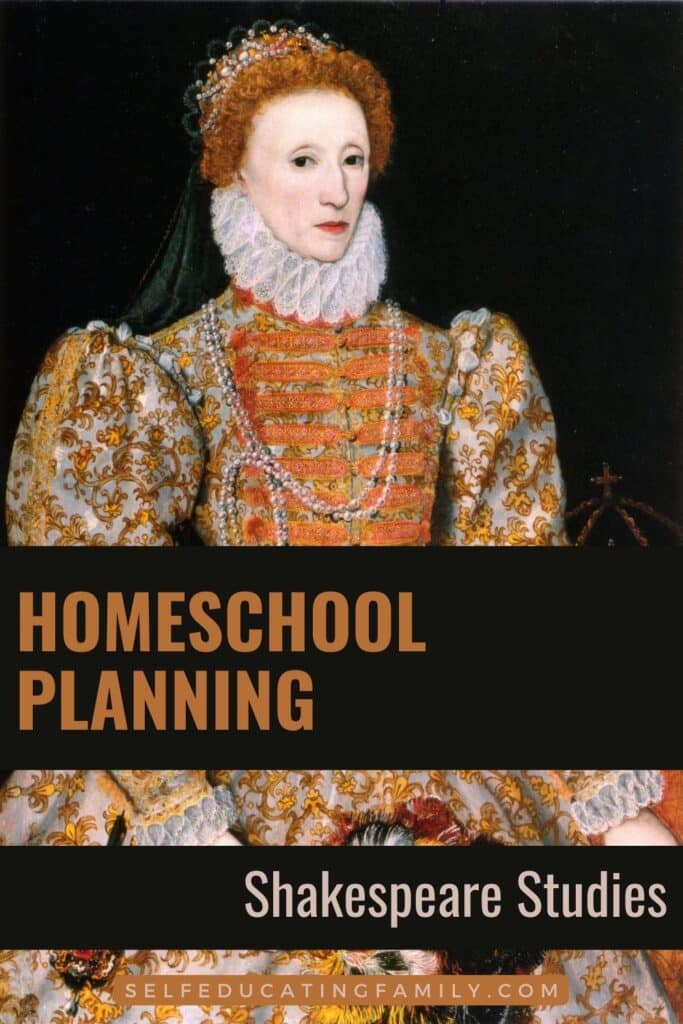 Keep learning