Planning your Homeschool
Today's post is going to give you resources and ideas for homeschool planning.
Disclosure: This post contains affiliate links, meaning that if you make a purchase after clicking through, SelfEducatingFamily will receive a small commission at no extra cost to you.
The Good, The Bad, and the Ugly of Homeschool Planning
Step 1: Don't panic. You can do this.
I had to say "Don't Panic" up front because planning a homeschool year can be daunting. You immediately think of The Ugly or The Bad. You forget about The Good completely.
The Good
The Good is that you love your kids and you want what is best for them. Take a breath, and don't make it harder than you have to. Bite off small pieces of your planning at a time.
The Ugly
So here it is: the Ugly. Eat that frog!
All right, I don't think homeschool planning is that ugly. But we do tend to make it harder than it has to be. I think adjusting your homeschool plan is harder than the actual planning.
I'm part of that crazy group of moms who likes the planning aspect. The list-making, the gathering and researching curriculum, the world-is-your-oyster daydreams of what you will accomplish. There are a lot of tasks that are idealistic head-in-the-clouds kind of activities. To me, that can be fun. Visionary even. But take my advice with a grain of salt – I'm known to be a recovering perfectionist.
However, what happens when the plans take a hiccup? Or careen off a cliff?
That's where planning can get ugly. You are tempted to throw it all out the window! Relax, find your footing, and take a step forward.
Backtrack to The Good
The good news is that there are lots of people who have gone before you and have left you a legacy of how to do homeschool planning. I'm going to reference my favorites here for you, organized in small, bite-sized steps for a successful year.
Step 1: Perspective
A key point is to remember why you are homeschooling. Maybe write down a pretty vision statement to put on your walls. Here's a free download from one of my sets of Charlotte Mason Wall Art in my Etsy store.
Also, it's not a bad idea to revisit your motivations and goals for homeschooling in general and for the year coming up. Great idea for a date night. Both parents should be involved in your high-level planning, if possible.
Recommended resources for Charlotte Mason Homeschooling
Please note: Naturally, there are many methods of homeschooling. I prefer and am most familiar with Charlotte Mason's methods. You need to find what works for your family.
Step 2: Make a big-picture list
You might think this is premature at this point, but it will limit your scope of action. First, list all your children and ages/grades. For each one, jot down what you think each child will be doing this year. If you use Ambleside Online's free curriculum, most of this work is already done. Simply make note of where it differs or needs specifics for each child.
Simple Example of "big-picure" planning
For instance (Ambleside Online example with 3 kiddos):
Petunia – Gr. 4 – AO but skipping Plutarch. Using Singapore Primary Mathematics 4A + 4B; Spanish; Piano & Karate. Handicraft: Sloyd, gardening, cooking, sculpting, & sewing. Reading to Aspen. Charlotte Mason Co-op.
Ash – Gr. 2 – AO light with assistance; Barton Levels 1 & 2. Singapore Primary Mathematics 2B + 3A, plus RightStart Activities for AL Abacus + manipulatives & supplements; Piano & Karate. Handicraft: Sloyd, gardening, & cooking. Charlotte Mason Co-op.
Aspen – preschool – lots of outdoor time + workboxes to "play" school. Drawing with Children. Carving soap. Large movement phonics games. Lots of reading aloud and tiny "narrations". Charlotte Mason Co-op.
The goal is to take 15 minutes to write down broad strokes of what you hope to accomplish. I usually made a page in my spreadsheet for each child called "Course of Study" to keep track of who would do what. In the later high school years when they started taking college courses, for the Course of Study, I listed all the core subjects and the books or courses we intended to do.
Keep in mind: this is the INTENTION of what you want to do. It's a jumping-off spot. Some years, my plans would change by the time we started the school year. That's fine – just keep going (and document what you do in high school because you won't remember.)
Step 3: Selecting Curriculum & Gathering supplies
If you're going to use AO, they have schedules and lists already made for you. You can adjust as needed for your family, and then go on a book shopping expedition.
If you are using another curriculum, you need to get it and see what resources it has for scheduling and planning. Unless it is an "all-in-one" curriculum (like My Father's World or Sonlight), you will have to coordinate all the schedules into one master schedule, as your needs demand.
For instance, in high school, some of my sons used DIVE Science for Physics. It completely handles the scheduling of lessons—day-to-day and week-to-week for the entire semester/year. While it is thorough, it doesn't lend itself to my existing master planner. My choice was to either duplicate all the effort and put it on my planner anyway or simply print a copy of the standalone subject and put a note on my master planner to check in on my student to make sure they are keeping up. I did the simpler method.
This example only works for mature students who are managing their own time – in other words, I could trust the student to be keeping up with the classwork.
In the younger years, it's better to keep track of exactly what needs to be done as you teach the child how to manage his learning and time.
How to "divide" up a subject
Let's say you've selected a book or textbook to use that doesn't have a schedule and you need to add it to your master schedule. This happens often. For instance, you don't want to read Watership Down because your sons despised it after 3 chapters, so you instead substitute A Connecticut Yankee in King Arthur's Court. Use math to figure out the schedule: You have 9 weeks remaining in the semester and the book has 44 chapters, so you have to cover about 5 chapters a week.
Step 4: Fill out your master planner
For group subjects (like morning basket or co-op), list out the subject and the books/ resources to be used. For each child, list the subject and its corresponding books.
I make it sound simple, but I know it can be overwhelming or time-consuming.
Keep reminding yourself to make it as simple as possible and still give a framework for how to learn the material during the school year.
What not to do
If you love weekly schedules (as I do, most appreciably in my weekly dot journal planner) then you may be tempted to fill out the entire year of weekly schedules. DON'T DO IT!
Instead, plan out a few weeks, and revisit the master plan at the end of each week. This way you can keep more or less on schedule.
Remember that the schedule can't be set in stone. Life happens. Give yourself flexibility. I know some people who add blank time into their daily or weekly schedule to account for finishing up whatever needs to be finished.
What's a master planner for homeschooling?
I have tried different planners or binder systems over the years. When I was working as an engineer, I became familiar with the DayTimer type of planner. It was an acceptable way to keep track of appointments and goals. It got a little too detailed for how I operated, though, which was especially noticeable with homeschooling.
When I started homeschooling, I looked into block scheduling. For preschool, we used some Montessori ideas and some unit studies, then as time passed, some classical education methods (Well-trained mind) until we found Charlotte Mason in 2nd grade.
Adjusting your plans
I may have mentioned that 2nd grade was when one of my twins rejected subtraction mid-year. (This is an example of what can go wrong with your plans.) Out flew the Saxon Math and in came Singapore Primary Mathematics. This coincided with the need for SHORT lessons. I'd been told I had "active" boys (though I don't know many young boys who aren't active. That goes for a lot of girls too!) The classical method with large chunks of time per subject was squashing the love of learning in our household.
Short lessons to the rescue. With short lessons came the need to change how I planned and scheduled.
I tried numerous planners, then made my own elaborate spreadsheets for weekly schedules, only to miss whole subjects or worse, fall so dreadfully behind! The permanent reminder of where I should have been which taunted me from off the pages of my day-time like planner – well it was too much to bear! I trashed that planner and started over.
Finally, the combination of loop scheduling and using a dot journal (dumping the weekly excel spreadsheet) allowed me the flexibility of having goals broken down into semester goals, then monthly targets, then weekly tasks. Key for me was working only a few weeks ahead – it turned chaos into smooth sailing.
You may have to go through iterations to find what works for you. That's actually the beauty of annual planning – you get to fine-tune the big picture.
Tip
Pro Tip: I've used The Homeschool Mom's Planner Spreadsheet throughout middle and high school years. It included a transcript, which is essential for high school planning and record keeping. This was a free download and it has more than paid for itself! I can't recommend it highly enough. If it lacked anything, I would just add a sheet as needed. I would use the spreadsheet for Yearly goals, and semester goals and results, (plus attendance tracking which was required in my state), and then use my dot journal for the monthly targets and weekly tasks.
Of course, by the time they get to high school, they are doing most of the work and you are simply guiding or helping as needed.
Best Two Resources for Master Homeschool Planning
Hands down the best resource with details and free downloads is Donna Young. (not an affiliate link)
She offers comprehensive instruction on how to plan your days, weeks, months, and years. I found her methods invaluable when I was starting out. What is particularly nice about Donna Young's site (besides the vast amount of valuable information) is her superbly detailed, step-by-step, approach to simplifying homeschooling and the household. She also has tons of actual examples to look at – I found that life-saving in the early years – sometimes, you don't even know what you need until you see it.
Donna Young uses a binder as a planner with specific pages or forms. To give you some ideas, check out the following from her site:
Eventually, I used the transcript spreadsheet from The Homeschool Mom as my annual planner that my dot journal worked off of. By the way, even this wonderful way of keeping track of the courses and grades I did set aside for a prettier transcript (Transcriptmaker.com NOT an affiliate link – I just liked their product.)
Another aside: I loved Ambleside Online's planners and the detail they had, but I always had to add the math schedule and the science schedule. (When I started using AO, their science section was not as developed as it is today. Generally, I used Apologia, which always had a schedule that I wanted to add to my master schedule.) Here's a link to a sample planner schedule for 6th grade.
A Note on Subject Planning
I didn't like using subject planners because there was too much information scattered about. That's just my preference. Then again, as I've said, you have to find what works for your family. And with scheduling and planning, there can be a lot of tinkering to find what works.
Step 5: Use your planner
A plan is only as good as its follow-through. Get in the habit of using your planner. Follow through to make a habit of using the planner as a tool to accomplish your goals.
Summary
Planning can be tremendously fun or it can be overwhelmingly difficult. Try to keep towards the enjoyable side!
FAQ
What should a homeschool schedule look like?
"Should"? A homeschool schedule should suit your family's needs. It should be a tool that helps you. It can look very different for every family. Some families excel on exact time schedules, while other families are better off with a flexible routine. Tricky families have students who are at both ends of the spectrum and the homeschooling parent has to keep track of what's best for everyone!
Do you have to do every subject every day?
Of course you don't have to do every subject every day! Some subjects are better suited to once or twice a week, with others being daily. In general, we had a list of "dailies" that needed to get done. Math is usually considered a daily subject because of the way that we learn with spaced repetition. Reading is another daily subject for most homeschool families. Copywork, while short (less than 5 or 10 minutes), needs to be done daily. On the other end, we would do Shakespeare once a week.
What are various homeschool styles and how do they affect your planning?
Different homeschool styles affect how you plan and how you go about your day. Charlotte Mason style homeschooling has many subjects and so requires short lessons with some subject benefiting from a loop schedule. Classical homeschooling typically uses a more in-depth focus of subjects. For instance, The Well Trained Mind suggested scheduling history twice a week for 1-1/2 hours at a time. Unschooling or Child-directed homeschooling usually has a very free and flexible schedule. And road schooling, well, that's a whole other ball game!
How many subjects a day for homeschooling?
In Charlotte Mason homeschooling, typical schedules have book work in the morning leaving the afternoons free for other subjects like nature study or handicraft. Most homeschoolers can fit in whatever their "required" subjects are and still have more time available for museums, field trips or other family activities.
What is a loop schedule?
A loop schedule is a list of subjects to loop through during a designated time. I've got a whole article devoted to it.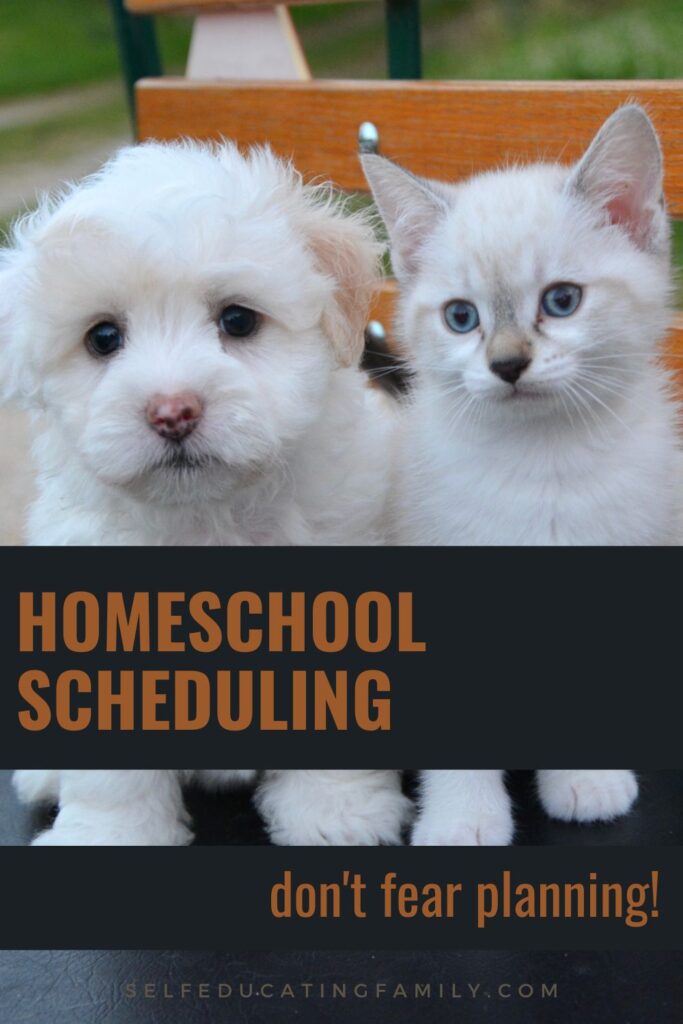 Related articles
Keep learning