Nature Study Hikes: Fun Things to Bring on a Hike
Today, I've got a wonderful treat – a guest post from April at Shapely Ways. She's giving us 17 Fun Things to Bring on Hike to ensure a positive experience on your next nature hike. Charlotte Mason homeschoolers usually spend a lot of time out in nature.
* Disclosure: This post contains affiliate links, meaning that if you make a purchase after clicking through, SelfEducatingFamily will receive a small commission at no extra cost to you.
Get out in Nature with a hike
Hiking is a wonderful way to get fresh air, open views, and a good workout but sometimes lengthy hikes can drag. So if your treks could use a bit more excitement, here are 17 fun things to bring on your next hike to keep everyone motivated and the memories extra special.
Whether you're on one of your favorite hikes or trying a new trail, it's important to be prepared with the right gear. But that doesn't mean there isn't room for a few interesting supplies to make it unforgettable. So, grab your backpack, and take a look at some of your best options for an epic adventure with kids and adults alike.
17 Fun Things to Bring on Your Next Hike
1. Fishing Pole
Add a new level of excitement and adventure to your hike with the relaxing hobby of fishing. It allows you to get a closer look at the fish living in the pond, river, or lake you're hiking near. Plus, getting a bite or catching a fish releases dopamine, your feel-good hormone.
Be sure to check out the local rules and regulations that relate to the bodies of water and parks where you'll be hiking. Sometimes fishing is prohibited or there are barbless hook/catch and release rules.
2. Mesh Net
For younger children, fine mesh fishing nets are easier than fishing to explore what's in the water. Likewise, there are lots of critters and plant life that you can scoop up with a net, that you'll miss with a fishing pole.
No water? No problem, a mesh net makes for a good bug, reptile, and amphibian catcher too. Just make sure you keep an eye on younger children to ensure they're safely catching and releasing critters who aren't too scary.
Mesh Net Tip: Sweep the net back and forth rapidly through tall grassy areas to catch insects that might not be visible to the naked eye.
3. Plastic Jar with a Lid
Like a net, there are lots of interesting critters to capture in a jar, observe up close, and then release.
From tadpoles and tiny fish to grasshoppers and beetles. Having a jar with a lid is a fun thing to bring on a hike and adds excitement to the journey.
4. Magnifying Glass
Observe and learn! A magnifying glass will let you take a closer look at some of the things you catch on your hike. It lets you study the flora and fauna in detail when you stop to catch your breath.
Nature is packed with little worlds of tiny creatures all around and a magnifying glass helps you find them.
5. Binoculars
Now that you've looked at the microcosmos, look out into the distance. Often you'll notice something moving on the hills above or the valleys beneath or even in the branches ahead. But without binoculars, it can be difficult to tell exactly what you're seeing in any detail.
Binoculars take bird watching and observations of nature to a whole new level. Squirrels, chipmunks, and prairie dogs are examples of shy mammals that provide lots of entertainment when viewed from afar with binoculars. Read more on the habit of observation, Charlotte Mason-style.
6. Identification App
A smartphone is fun to bring on a hike to capture the day with its camera. But smartphones can make a scenic hike even more educational and stimulating with an on-the-go plant and animal identification app. Here's my favorite free one:
Not only does this app help you identify the flora and fauna on your adventure, but it also gives you access to the wildlife, plants, and fungi that others have observed while using the app in the area.
7. Trail Map
Map reading skills are becoming a lost art with GPS at your fingertips to show you the way. And while there are trail map apps that allow you to discover new trails or save hikes you've completed, learning to read a map is an important part of developing spatial intelligence.
"Map reading can help children acquire abstract concepts of space and the ability to think systematically about spatial relationships that are not otherwise experienced directly in the physical world." According to Parenting for Brain
8. Nature Journal/Sketch Book
Sketching at a rest spot or on the summit is a relaxing way to spend time on a hike. It could be the motivation to get to a particular view. Drawing the surrounding nature increases your observation skills, enjoyment, and artistic ability. In addition, if you date your sketch, you'll have a special memento from your trip.
9. Hammock
Sometimes the best part of a hike is being able to relax in nature and the most comfortable way to do that is in a hammock. It provides you with an extra level of comfort and a cozy place to take a nap, read a book, or just appreciate the scenery.
A portable double hammock offers you +1 a unique and enjoyable way to relax during or after a long hike. Portable hammocks are lightweight and easily hung between two trees.
10. A Friend
Friends are fun to bring on a hike. Whether you bring an adult friend or your children's friend, having someone along to share the experience with makes for a more pleasurable hike.
11. A Dog
Don't have a dog? That's ok, borrow your friend's well-behaved furry friend. There is something joyful and endearing about sharing a nature experience with a curious pup.
Not all trails allow you to bring a dog so be sure to check ahead. Likewise, long hikes can be too much for older dogs or puppies, and don't forget to bring water for Fido too.
12. Games
For lightweight hiking, fun games to bring on a hike are ones without parts or a board. Trail games can be an entertaining way to keep little ones motivated on longer hikes. Play "Find it" by picking an item common to the trail like a pinecone, purple flower, or butterfly, and whoever finds it first wins. Change up the categories as you move into different terrains.
Another fun trail game is 20 questions. One person thinks of an object, person, or place and everyone else asks yes or no questions in order to discover what the person is thinking about.
13. GPS for Geocaching
Join the world's largest scavenger hunt with geocaching. Geocaching uses a handheld GPS to find caches – hidden containers with a log book and trinkets inside for you to look at or to trade.
Visit geocaching.com to learn how to play and discover trails near you that contain these hidden treasures. You can also use your smartphone to geocache.
14. Harmonica
A small musical instrument is a fun thing to bring on a hike. Even if you're a beginner, it's still satisfying to create music as you hike or when you're resting. What better place to practice than in the great outdoors? Although, depending on your skill level, this might be better suited to a solo hike.
15. Pocket Knife for Whittling
Bring your own wood or keep an eye out for a stick that has the shape and texture that works best. Create something abstract, an animal, or even a spoon. The possibilities are as endless as your imagination.
Be careful to carve away from your hand to avoid accidentally cutting yourself. The trail isn't the best place for an emergency. To be safe, always carry a first aid kit on outdoor adventures.
16. A Joke
Well-timed humor is important when fellow hikers are grumpy, sweaty, or tired. Look up age-appropriate jokes before heading out and surprise everyone with a wisecrack when they need it the most. Remember bad jokes can be funny too.
Here are a few silly hiking jokes from Amateur Adventure Journal to get you started:
What do you do if the feet of the hiking robot break? You reboot it.
Which is the laziest mountain? Mount Ever-rest.
I don't get it. The trail looked so flat on the map.
17. Picnic Food
There are few rewards as anticipated on a hike as a picnic. It offers a chance for your hiking party to reconnect and gives everyone that boost of energy needed for the hike back.
Here are some food ideas for a casual picnic on your hike: energy bars, trail mix, apple and peanut butter, dried fruit, sandwiches, cheese and crackers, hummus and veggies, beef jerky, and don't forget plenty of water.
Final Thoughts
With the right gear, your hiking trip is leveled up. These 17 fun things to bring on your next hike keep everyone motivated and can make your hike epic. From fishing poles to hammocks, there's something for everyone to enjoy.
Remember it's not about the destination, it's about the journey. While it's important to be prepared with the right supplies, don't forget to leave room for a few items that are sure to make your journey unforgettable. What is your favorite fun thing to bring on a hike to make it more enjoyable and memorable?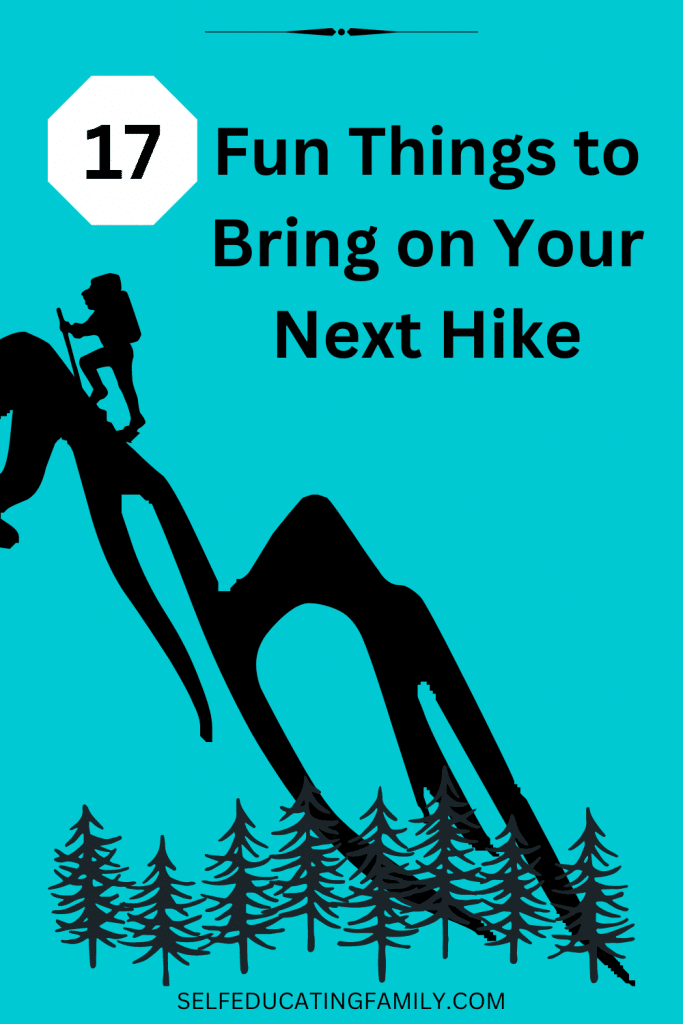 ---
Thanks to April at Shapely Ways for this guest post!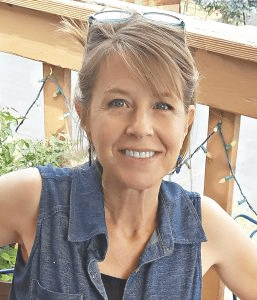 Homeschool mom of 4 boys, April uses her love of teaching and learning to help women focus on new habits and a positive mindset to achieve lasting health and weight loss. She shares the tips and tricks she's learned (and is still learning!) so women have practical tools and resources to work towards their healthiest self. Just as important, she provides encouragement and a plan to get back on track when life goes off course. Connect with her at shapelyways.com
Attention hikers! Are you looking for a way to improve your fitness but don't have the time or budget for the gym scene? Working out at home might be the perfect solution offering you complete privacy and control over your workouts. Check out my popular blog post, "31 Advantages and Benefits of Working Out at Home" and explore the advantages of getting fit in the comfort of your own home. They'll inspire you to take the plunge and start working out at home today.
---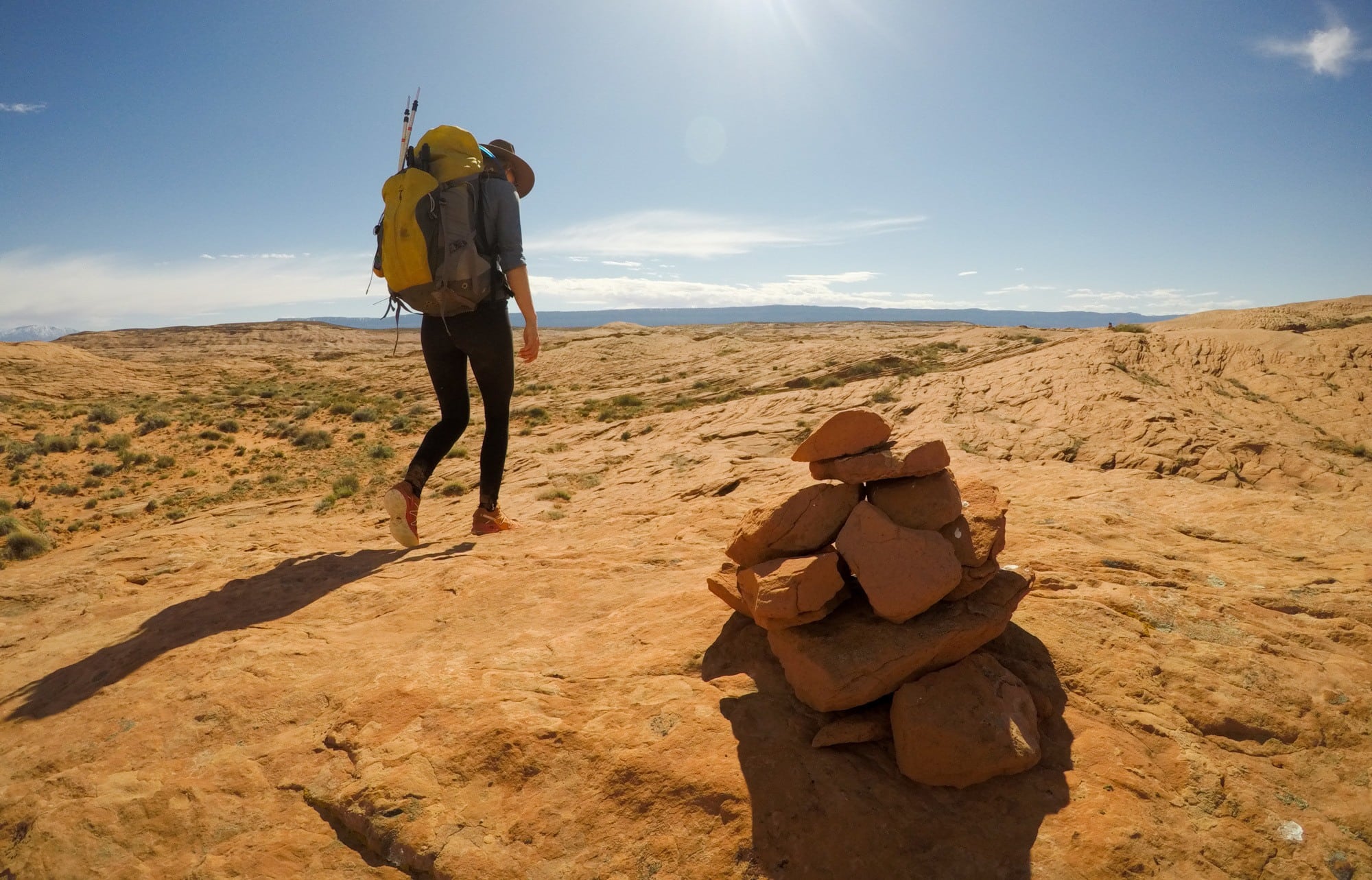 Bearfoot theory: What are rock cairns?
Remember, Leave No Trace when hiking!